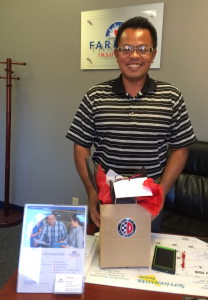 On Friday June 24, Dabler Auto Body not only sponsored a hole for the 8th Annual Farmers Insurance / ServiceMaster Charity Golf Classic, but the company also entered a team into the tourney. The charity event was held at McNary Golf Club located in the McNary Estates in Keizer. The company's presence was not only made by the runner-up competitive golf team, but also a kiosk at the event. The kiosk featured food and drinks, and of course a friendly game of cornhole. The tourney's aim was to raise money for it's two main charities: The Liberty House and the Willamette Humane Society.
The Liberty House
http://libertyhousecenter.org/
Liberty House is a child abuse assessment center serving Marion and Polk Counties. Liberty House offers a safe, comfortable, child-friendly environment for children and their families who are facing concerns of abuse or neglect. Experienced staff members help children and teens, and can provide support so children and their family members can get the help they need with fewer appointments and more coordination.
Liberty House has launched, "Change hurt into HOPE," a sustaining giving campaign. Monthly gifts of $25.00 or more will help provide critical services for children referred for concerns of abuse or neglect. We invite you to become part of this special group of sustaining donors today!
Willamette Humane Society
Willamette Humane Society (WHS) was founded in 1965 by local civic leaders and serves Marion and Polk counties.
Dedicated to providing compassionate services to pets and people, WHS exists to:
Assist pets and people in transition
Complete families through adoption
Reduce pet overpopulation
Teach responsible pet care
Alleviate pet suffering
Willamette Humane Society is a 501(c)(3) non-profit charitable organization that relies on donor support and service fees in addition to the Willamette Humane Society Thrift Store,and Davenport's Den pet supply/gift store located inside the shelter.