"Growing the Young Auto Care Network Group to 1,000 members during 2016 was one of my goals as chair of YANG, and I could not be more proud to see it come to fruition. This milestone could not have been accomplished without the support of our valued sponsors as well as our tremendous staff and volunteer leaders."

Alena Van Cleave, chair, YANG, A & Jay Automotive, Inc.
What is YANG? YANG is the Young Auto Care Network, a networking group for auto care professionals under 40. Here's what YANG's website had to say about their mission:
The auto care industry's dynamic and vibrant under-40 set finds its home with the Young Auto Care Network Group (YANG). YANG provides young auto care professionals in their twenties and thirties the opportunity to network with industry peers, enhance knowledge and improve leadership capabilities.

The Young Auto Care Network was formed in January 2014 with a desire to help young professionals establish a circle of peers to grow with alongside their careers. YANG participants are future executive-level staffers of the auto care industry that see the value in establishing connections with other young professionals that will one day be business owners and key decision makers.

Events of YANG include functions featuring industry leaders, professional development webinars, education seminars with guest speakers and networking events – all of which aim to build networks, professional development and career development.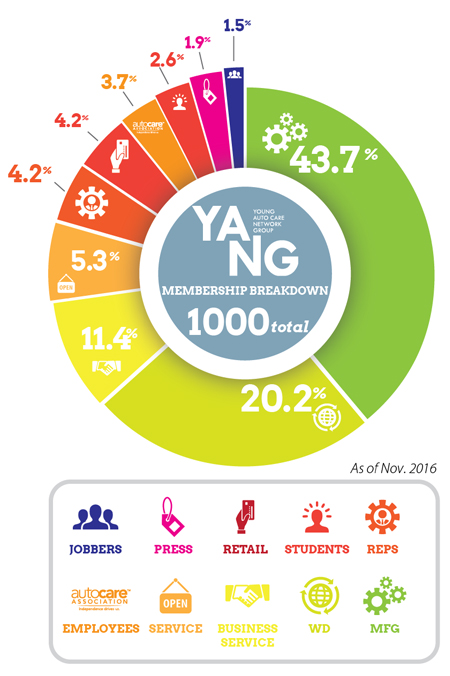 YANG notes a number of benefits for joining, some of them include networking events where meeting others inside the auto care industry, webinars and training, direct access to decision-makers, influential thinkers and auto care industry leaders, and providing members with scholarships for training and furthering their careers. If you are interested in joining YANG you can visit their site at their website.