CCC Repair Workflow Software Helps Salem, OR
Body Shop Manage and Grow Business
by Autobody News Staff
When Mike Brockway and Dennis Dabler purchased Dabler Auto Body in 2015, one of their goals was to streamline operations to maximize profitability. That included purchasing CCC Repair Workflow software for their Salem, OR, business. Not only have they found it to be extremely helpful in managing the body shop, but it has also been instrumental with production, cycle time and parts invoicing.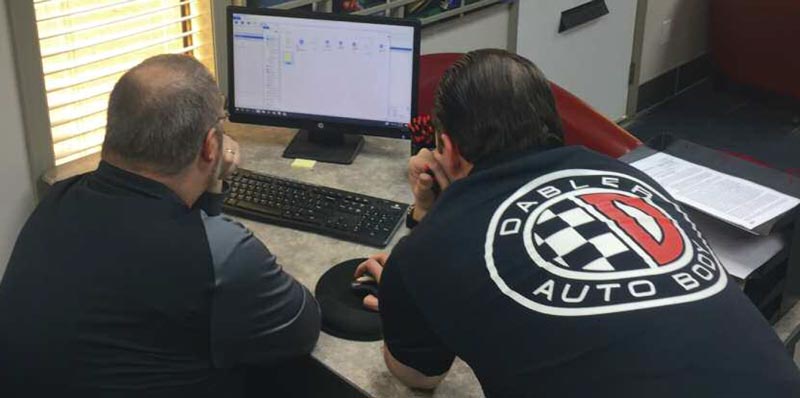 "The CCC software is a very important tool to help you run and operate your business in a way that you need to be competitive in this industry, especially with four huge MSOs that are basically buying up body shops by the hundreds," said Brockway. "If you are an independent and going to be competing with them, you better know a lot about your business."
Chuck Dabler opened the original body shop in the Eyerly Volkswagen dealership in Salem in 1967. A decade later, he branched out and established Chuck Dabler Auto Body. Over the years, Chuck built a stable base of clientele and a reputation for excellent service. When he retired in 2002, his son Dennis ran the family business and Brockway came on board in 2007 as the head painter for several years.
Brockway briefly left to work as a technical representative for BASF, traveling up and down the coast teaching people how to use the products. During that time, he attended training classes and learned about the benefits of running a body shop using management software. "If you want to be in the top 10 percent of body shops these days, you really have to understand software and how to run a business much the same way an insurance company runs their business," said Brockway.
He approached the Dablers about coming back to the shop and he and Dennis purchased the business. They recently celebrated their two-year anniversary.
Although the facility had a solid foundation, techs focused on more than just collision repair. They were also repairing and painting motorcycles, hot rods, fire trucks, ambulances and even a washer and dryer. "We talked about picking a lane and going as fast in that lane as we possibly could," said Brockway.
The shop was bringing in about $850,000 in sales in 2014; the following year, it reached $1.4 million, and in 2016, that number grew to $2 million in sales. The partners attribute that growth in part to having a specific focus as well as utilizing the CCC ONE management software.
Dabler Auto Body had already been using CCC ONE estimating software. "CCC ONE was easy to work with and helped us secure DRPs," said Dennis. "Having used other estimating software before, I found it beneficial and easy to use."
Brockway didn't have much experience using the software but quickly learned. Meanwhile, the shop researched management software options and ultimately purchased CCC Repair Workflow. "The number one reason is that it's about as simple of a management software as it gets as far as interfacing," said Brockway. "It's extremely user friendly."
Fast forward a year and a half, and they are extremely happy with the product. "You can physically manage every facet of the body shop with the CCC ONE management software," he said. "It can track information, sales and run KPI reports."
The software combines the estimating and shop management features into a single application. Brockway said this helps eliminate errors and rekeying of information. In addition to producing cycle time and profit reports, it defines roles and tasks and tracks production.
"CCC did a great job helping us get trained," said Brockway. "The local rep is extremely knowledgeable and did a great job helping us implement everything." He said technical support has been amazing and there is always someone on call to answer questions.
CCC ONE Repair Workflow is used by everyone at Dabler's, including the lead estimator, production manager and parts department. The shop also interfaced the software with QuickBooks. "CCC ONE has helped every person in our business make more money by giving us more information," said Brockway. "Technicians can see our report, giving everyone an idea of how we need to improve."
Brockway said if you have DRPs, it's crucial to know your numbers. "The reality is, these insurance companies know more about us than we know about ourselves," he said. "They manage numbers all day long. If you don't have a system to track some of that information, you're at their mercy."
His advice to shops considering a management software is to be patient during the implementation and allocate time to become proficient.
"We've grown the business 100 percent in sales and we're 1,000 percent more profitable this year than last year," said Brockway. "If you don't have a management system in 2017 and you're operating a body shop that does more than $1 million worth of sales, you really need to think heavily about investing in one to manage your business."