A new vehicle today is the second largest investment you will probably make in your life. According to the Bureau of Labor Statistics:
"From 2008 to 2012, the average age of U.S. households' vehicles increased as owners held on to their cars, trucks, and vans longer. The trend in aging autos coincides with declines in average household income in 2008"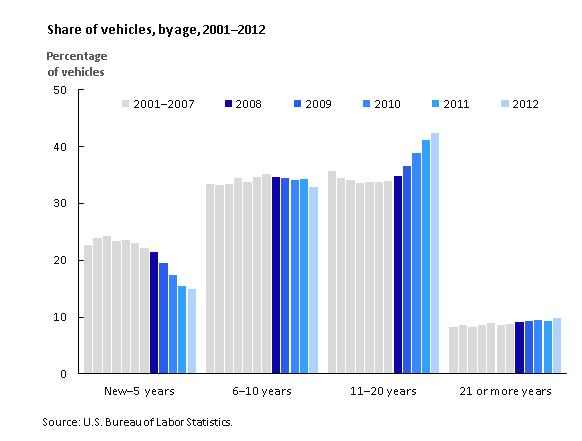 Keeping our cars longer and longer, sometimes as long as 20 years seems to be a trend that is going to continue. What are the things we can do to extend the life of our vehicles. Here's some tips from YourMechanic.com:
YourMechanic.com – Source
Your car is one of your most valuable possessions. It's also something on which you heavily depend. Nowadays, people keep their vehicles longer before trading them in or upgrading, due in part to car loans with longer payment plans. Therefore, it's more important than ever to maintain your car properly, so it will last as long as possible with the fewest repairs.

Here are 10 relatively simple ways to extend your vehicle's life:

Tend to minor repairs in a timely manner: Whether you've noticed your car is pulling to one side or there's a slight hum when you turn on the air conditioning, these little issues can become big ones when left unattended. Take care of these problems at your earliest convenience to prevent further – and more costly – damage to your car down the road.
Keep up with oil changes: Oil is essential to the proper operation of your engine. When oil levels are low or the oil is old and grimy, however, there is added friction between the moving parts that will eventually cause wear and tear to the engine. Have your oil changed regularly according to the schedule recommended in your owner's manual – usually every 3,000 to 5,000 miles.
Periodically check the rest of your fluids, too: Oil isn't the only fluid in your car that optimizes its performance. Your vehicle also relies on transmission fluid, brake fluid, power steering fluid, and properly mixed coolant. At times, these fluids will need topping off, and a certified mechanic from YourMechanic can take care of that for you at your home or office.
Change your air filter regularly: Your air filter should be replaced about every 12,000 miles. Over time, dust accumulates on the filter, and this can negatively impact your gas mileage and even engine performance.
Don't ignore tire pressure: Tires inflated within 5 PSI of the recommended pressure levels (found either on the side of each tire, on a label inside your car's door jamb, or in your owner's manual) greatly improve your gas mileage and the general handling of your vehicle.
Keep it clean: Allowing dust and debris to collect on and inside your vehicle isn't just unsightly, it can actually cause undue wear to your car's surfaces. Regularly wash and wax your car to keep your paint job pristine, and use cleaning products designed for auto interiors to keep the inside in tip-top condition, preventing issues like cracked leather or scratched dashes in the future.
Seek shade and cover: Sun is another oft-overlooked enemy to your car's surfaces, so park in shade or in covered lots and carports whenever possible. This will prevent issues like bleaching to your interior upholstery or damage to your exterior paint.
Exercise your time-management skills: Much of the harm to your mechanical elements stems from starting and stressing your engine and related components when cold. So, try to complete as many of your errands as possible in a continuous sequence to ensure everything is warm and properly lubricated.
Drive responsibly: Although you may fantasize about tearing up the track, don't drive your car like you're the next racing sensation. Sudden stops and starts, high speeds, and sharp corners don't do your vehicle any favors and put undue stress on all of your car's parts.
Take your owner's manual to heart: The previous tips apply to virtually all vehicle makes and models, but your particular car has unique needs. Take the time to look over your owner's manual and follow any maintenance schedules or advice it recommends, such as the duration of a "break-in" period.

Just by implementing these simple tips into your driving and maintenance routine, you can greatly increase the life of your vehicle. If you're in doubt about how frequently to check some of these issues or have questions about the current health of your car, don't hesitate to book one of our mechanics for a diagnostic or consultation.