The future of autonomous vehicles is very exciting, almost straight out of a science fiction movie, but their existence is very real. Along with the positive impacts of a new age of transportation, many negatives could show themselves as we transition with new technology. Fears surrounding an increase in the unemployment rate are certainly one of the top concerns when it comes to a autonomous vehicle economy.
In June of 2018, a Washington D.C. non-profit focused on reducing American dependence on oil, Securing America's Future Energy, released a report to address many of the concerns about this upcoming transition into this "self-driving" economy.
"Like many new technologies before it, the public discourse around AVs has witnessed a significant focus on potential downsides, often with considerable exaggeration. Simulations of the impact of AVs on employment showed a range of impacts that would be felt starting in the early 2030s but would only increase the national unemployment rate by 0.06–0.13 percentage points at peak impact sometime between 2045 and 2050 before a return to full employment. Through 2051, the marginal impacts on the unemployment rate will remain quite low when considered from an economy-wide perspective, below the current uncertainty in the monthly Bureau of Labor Statistics (BLS) unemployment reports."

Securing America's Future Energy (SAFE)
Autonomous Vehicles Across Sectors
Not all industries would feel the same impact. For example, in the commercial trucking sector there are simply far more driving jobs available. America has had a critical shortage of long-haul truck drivers, so the impact of autonomous vehicles would certainly be boost to the commercial trucking sector. But overall, the report concludes that AVs would have a marginal impact on the US.
Autonomous Vehicles and a Boost to US Economy
Now let's talk more about that boost to the American economy. The SAFE report concludes that job creation is expected in three broad categories: New transportation jobs; new AV-related jobs; and new jobs providing other goods and services. Also, AV-related manufacturing will be a prime driver for job growth in the AV-related jobs category. AVs still need to be manufactured, and early indications show that task will fall to the automakers.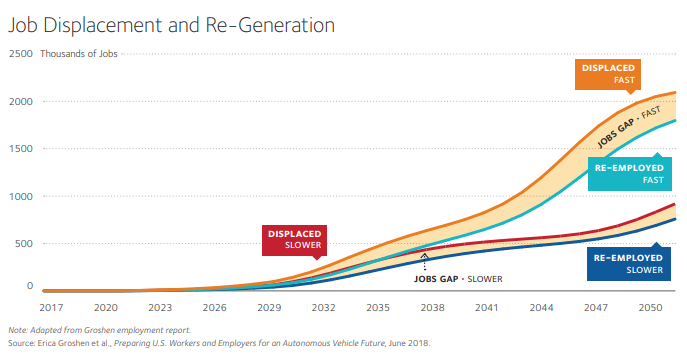 Mitigating Impacts of Autonomous Vehicles
The SAFE report concludes that policymakers have three potential courses of action to mitigate the impacts of AV deployment on the workforce, they include:
The passive option: Allow AV deployment to occur at a rapid pace, and accept any costs to workers, at the risk of social disruption and heightened public resistance to further technological change, as the price of doing business.
The reactionary option: Impose restrictions on AV technology to artificially slow adoption in an attempt to allow the current workforce system to handle the transition without high costs.
The investment option: Pursue a rapid deployment of AVs, while directing some benefits of AVs to fund investments in policies that would upgrade our ability to mitigate costs to workers.
"As the technology driving AVs continues to improve, policymakers at all levels will need to make key decisions that will shape the adoption of these vehicles and related services by the general population as well as by industry."

Securing America's Future Energy
---
For over 50 years, the team at Dabler Auto Body has been providing high quality collision repair in the Salem, Oregon area. All of our repairs are covered by our Unlimited Lifetime Warranty, ensuring that our repairs will be error-free, giving you that peace of mind you deserve. Give us a call today at 503.585.8066 or click here to start your FREE estimate with FREE rental car assistance!