The SEMA Show is the premier trade show enabling automotive specialty equipment manufacturers to display alongside automotive manufacturers. The SEMA show debuts new innovative products, and connects industry buyers from all over the world.
The SEMA Show is organized by the Specialty Equipment Market Association (SEMA). In addition to organizing the premier automotive trade show in the world, SEMA offers members research, training, education, manufacturing support services, legislative advocacy, group-buying discounts, networking events and more.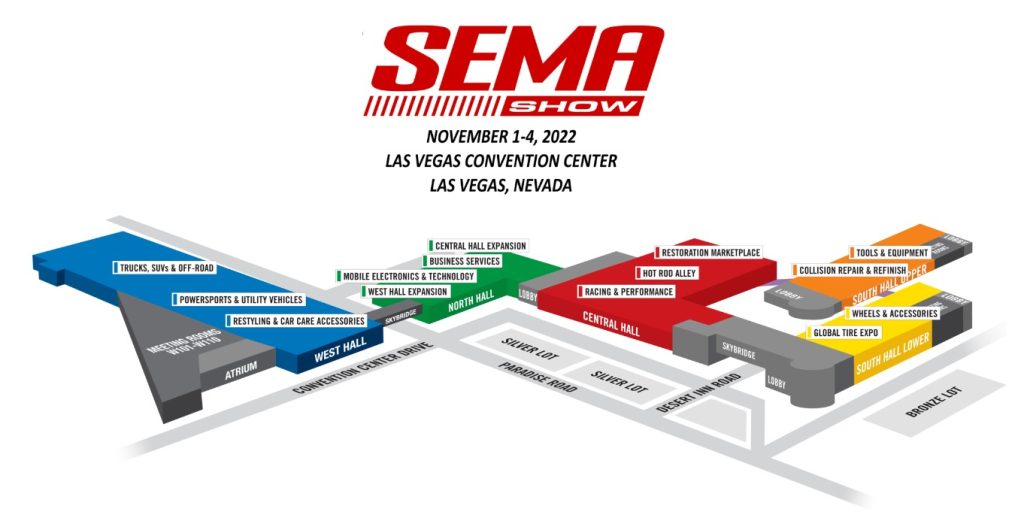 Taking place November 1–4 at the Las Vegas Convention Center, the 2022 SEMA Show will build upon the positive momentum following last year's event. Registration for the 2022 SEMA Show is offered in three categories—attendee, exhibitor and media—and everyone must qualify to attend. Attendees are encouraged to register early at www.semashow.com/register so they can secure their credentials and receive updates on breaking news from the 2022 SEMA Show.
Attendees at the 2022 SEMA Show will learn about the latest products, trends and technology in the industry from manufacturers exhibiting throughout the entire Las Vegas Convention Center, including the surrounding parking lots. Educational seminars led by industry experts and networking events that bring market niches together will also be available during the four-day trade event.
EXHIBIT HOURS
---
Tue. November 1, 9:00am – 5:00pm
Wed. November 2, 9:00am – 5:00pm
Thu. November 3, 9:00am – 5:00pm
Fri. November 4, 9:00am – 4:00pm
---
For over 50 years, the team at Dabler Auto Body has been providing high quality collision repair in the Salem, Oregon area. All of our repairs are covered by our Unlimited Lifetime Warranty, ensuring that our repairs will be error-free, giving you that peace of mind you deserve. Give us a call today at 503.585.8066 or click here to start your FREE estimate with FREE rental car assistance!