FCA Certified Collision Repair Partner in Salem, OR
Dodge – Chrysler – JEEP – Ram – Fiat – SRT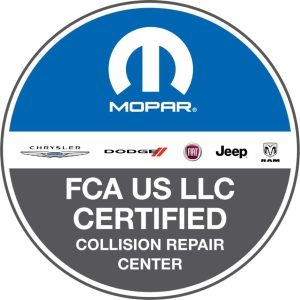 Our auto body repair team in Salem can provide trusted, high-quality FCA Chrysler Certified collision repair for your MOPAR vehicle. Our goal at Dabler Auto Body is to bring your damaged vehicle back to its pre-accident condition and make it look like nothing ever happened.
SCHEDULE YOUR ESTIMATE HERE or
CALL – 503-585-8066
As an FCA Certified Repair Facility, we have invested in your future enjoyment and safety of your Chrysler, Dodge, JEEP, RAM, or Fiat vehicle. With the proper tools and equipment, training, ongoing access to vehicle repair information, and with I-CAR Certified technicians, our certified collision repair experts can repair your vehicle back to its original factory-built standards. Call Dabler Auto Body in Salem today!
We also use only Genuine MOPAR parts on all FCA Certified Repairs. Using genuine parts ensures we can match the exacting fit, appearance, and durability of the original construction of your MOPAR vehicle. And using genuine parts also ensures your future safety should you ever be in another accident.
WHY CHOOSE AN FCA CERTIFIED COLLISION REPAIR FACILITY?
GENUINE MOPAR PARTS
LIFETIME WARRANTY ON ALL REPAIRS
I-CAR CERTIFIED TECHNICIANS
RETAIN VEHICLE VALUE AND INTEGRITY
MAINTAIN ORIGINAL FACTORY WARRANTY & ORIGINAL REFINISH

And at Dabler Auto Body, we take your repairs and service a bit further than most auto body repair shops. We offer FREE estimates, can work with your insurance company to help expedite your claim and repairs, and offer many additional services to make this process as easy as possible.
100% Satisfaction Guarantee
Full-Service Auto Body & Collision Repairs
Structural Repairs & State of the Art Equipment
Paintless Dent Repair
Towing Service Arrangements
Insurance Assistance
Glass Repair
We also want to provide you with an outstanding auto body repair experience. We do this by keeping you up to date on the repair process of your vehicle and guaranteeing your 100% satisfaction from start to finish. No other local both shop cares more about repairing your MOPAR vehicle than we do, and no one knows how to do it better, period.
Since 1967, Dabler has been providing drivers of Salem, OR and the surrounding area with outstanding auto body repairs and service. Contact us today to schedule your Chrysler Certified repairs or to speak to a member of our team!