by Autoblog Gary S. Vasilash
Shortly after he became president of what was then Google Self-Driving Cars, John Krafcik and I were talking design. At one point during the conversation, he said, "Doesn't it look like you just want to hug it?"
He was talking about one of the Google self-driving vehicles. No, not the Lexus RX 450h outfitted with all manner of spinning, projecting, probing and otherwise slightly ominous-looking objects that makes it look like it would be, were it painted black, the Official Crossover of Bruce Wayne's Alter Ego.
Krafcik was talking about what was then simply known as the "Google Car," that object that resembles the coconut-covered Hostess Sno Ball on wheels, a dome-like vehicle that is even too cute to be a character in a Pixar Cars movie, but would look right at home transporting people to Cinderella's Castle in the Magic Kingdom.
Volkswagen Group recently revealed at the Geneva International Motor Show Sedric, its concept of what a four-place autonomous transport device might look like. Whereas the Google Car (I've yet to hear it referred to by anyone as the "Waymo Car") has a rounded theme, Sedric is more rectangular. As automotive designer and mobility enthusiast Dan Sturges might categorize it: Sedric is a COW—a container on wheels. And like a cow that we've come to know not through actual farms but via Gary Larson cartoons, Sedric is exceedingly benign in appearance, with rounded edges and corners and a front end that looks like it could be the Google Cars big androgynous sibling.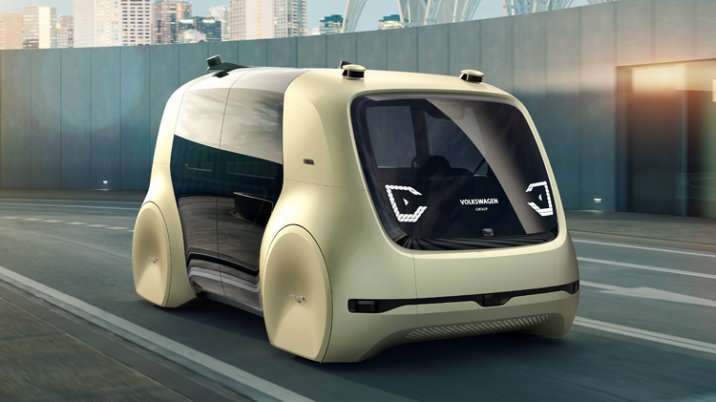 Another family member, perhaps a cousin, would be Olli, the autonomous vehicle introduced last fall by Local Motors. It is like Sedric in not only its overall form, but also in its design as a multiple-person transporter. Olli uses IBM's Watson virtual agent. While that system is named after Thomas J. Watson, IBM's first CEO, it brings to mind Sherlock Holmes's sidekick, Dr. Watson, as portrayed in the 1940s series of movies by Nigel Bruce, a nonthreatening, avuncular character who would invariably get the job done. Pleasantness is essential in the space of advanced technology.
When talking about Sedric and the ID Buzz and Buzz electric vehicles, Klaus Bischoff, head of Volkswagen Design, said, "We want to give the cars a more friendly appearance. They shouldn't be aggressive. We don't want to come up with grills that you fear the car will eat you up—no man-eaters."
Bischoff continued, "We want to take this opportunity to harken back to a very friendly approach, a new design language for Volkswagen that also differs a lot from what our combustion engine cars are providing."
"No man-eaters."
While people tend to think of how autonomous vehicles will transform one's commute, that will probably only be the case if a person works at the rec center in a retirement community and lives on site or drives with a theme park. And that fact may go a long way toward explaining why purpose-designed/built autonomous vehicles have such a benign appearance.
Realize that whether it is the aforementioned RX 450h that Waymo is using, the Ford Fusions that are decked out with sensor arrays at places like MCity in southeastern Michigan or the Volvo XC90s that Uber is running, all of these are vehicles that were conceived and produced without any consideration to being run in autonomous mode. Consequently they look like, well, regular vehicles. But as we have companies develop autonomous rides, they are doing so knowing full well that they have to make something that looks more befitting an amusement park than a public road.
When Local Motors launched Olli in the public, it did so at National Harbor, Maryland, "a 350-acre resort destination." Or put another way, it showed how its vehicle works to the public in a private setting. Captivity is its natural environment.
If this benign, huggable blobiness is what is going to become of automotive design language for the next couple of decades until the vehicles are fully integrated into the transportation system, then it is probably a good argument to start paying attention to the designs of major appliances as they may be the things that are far more edgy, literally and figuratively.